Welcome to TOEJAMM, owned and operated solely by Jami, a chilled nail studio that specialises in removing the 'jam' from your toes. BOOKINGS ESSENTIAL // NO WALK-IN'S // OPEN BY APPT. ONLY This studio has been designed to welcome everyone and ensure they walk out with their 'toes jammin'. From the neutral black, grey and white theme, with the most comfortable high-backed chair for you to relax in whilst your feet are being transformed, to the complimentary wifi, tunes and Netflix available for your entertainment. Hands are taken care of too, but at TOEJAMM, feet are always first. Using nothing but the best, CND. A product that believes in the care of your natural nail. Offering soak-off SHELLAC® Brand 14+ Day Gel Polish and VINYLUX® Long Wear Nail Polish. Dipping products and drills are not used in this studio. So why 'Toejamm' you ask? Well, on my way to work one morning, my partner and I started to toss out some names. All of a sudden he yelled out 'Nail Jam'! and like a ray of light shining down from the heavens with the angels singing 'ahhhhh'... my eyes lit up and I screamed 'Toe Jam'! We both looked at each other and cracked up laughing but we were excited as we both knew the name was very appropriate (considering I specialise in pedicures) and it reflected my personality down to a 't'. An extra 'm' was added for effect and the two words were joined together. It was on that day, 15th March 2018, that 'Toejamm' was born. - - - LOCATION + PARKING: I am based inside Mi:Skn Clinic, Perth which is on the outskirts of the CBD near the freeway entry/exit points - so you are bound to miss all traffic AND the property has onsite parking too so you don't need to worry about paying for street parking (unless of course it is full). PAYMENT METHODS: I have 'Square' so you can pay via Visa, MasterCard, AMEX, Apple Pay, Google Pay, with your watch or phone or good ol' cash. (bear in mind I may not have any shrapnel for change though) PLEASE NOTE: Female Clients are welcomed Monday to Saturdays at anytime & Male Clients are welcomed on Monday to Thursday between 10AM & 7PM.
Jami
Perth's Pedicure Junkie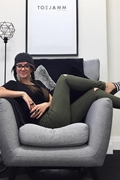 from automotive to beauty - who would have guessed? finding your passion is a journey but when you realise what it is, a whole new world opens up. for me it was becoming a pedicurist. give me a smashed-up toe and you'll be guaranteed to have it looking like new at the end of the service. it's important to pay particular attention to your daily activities so I can best repair your feet in the right way. attention to detail, care, time, effort, chats - i am not your ordinary nail tech.
TOEJAMM (Inside Mi:Skn Clinic)
206 Stirling Street, Perth
+61 0410 383 077
Monday

Tuesday

Wednesday

Thursday

Friday

Saturday

9:00am - 7:00pm

9:00am - 7:00pm

9:00am - 9:00pm

2:00pm - 7:00pm

9:00am - 6:00pm

9:00am - 3:00pm