Welcome to TOEJAMM, a home-based nail studio that specialises in removing the 'jam' from your toes. This studio has been designed to welcome everyone and ensure they walk out with their 'toes jammin'. From the neutral black, grey and white theme, with the most comfortable high-backed chair for you to relax in whilst your feet are being transformed, to the complimentary wifi, tunes and Netflix available for your entertainment. Hands are taken care of too, but at TOEJAMM, feet are always first. So why 'Toejamm' you ask? Well, on my way to work one morning, my partner and I started to toss out some names. All of a sudden he yelled out 'Nail Jam'! and like a ray of light shining down from the heavens with the angels singing 'ahhhhh'... my eyes lit up and I screamed 'Toe Jam'! We both looked at each other and cracked up laughing but we were excited as we both knew the name was very appropriate (considering I specialise in pedicures) and it reflected my personality down to a 't'. An extra 'm' was added for effect and the two words were joined together. It was on that day, 15th March 2018, that 'Toejamm' was born. - - - Are you a new client? Book Now for 10% off your first nail service. PAYMENT METHODS: EFTPOS + CASH PLEASE NOTE: Female Clients are welcomed Monday to Saturdays & Male Clients are only welcomed on Saturdays .
Jami
Perth's Pedicure Junkie + Henna Artist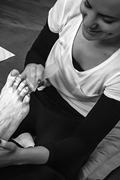 In 2014, I qualified as a CND (Creative Nail Design) Nail Technician + in 2018 I officially launched TOEJAMM. All products I use are from the nail industry leaders, CND. CND products focus on looking after the natural nail so that your hands + feet can look, feel + remain healthy with no damage. I've also recently introduced Henna into my services + it is proving to be a hidden market that I didn't realise so many enjoy. I am very excited to be able to offer this service to you all.
1 Contact Me, Maylands, WA 6051
+61 410 383 077
Monday

Wednesday

Thursday

Friday

Saturday

9:00am - 9:00pm

9:00am - 9:00pm

9:00am - 9:00pm

9:00am - 9:00pm

9:00am - 9:00pm